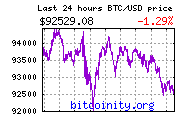 Thanks: Bernard von Nothaus for all you suffered for freedom and lawful money. To 'Satoshi

Nakamoto

', Bill LaMere and the artists at North American Mint, the Sculptor Luigi Badia and to Joseph V. Perling, John Scott and broketech for their efforts on the QR codes backend code.
ABOUT
:
300 Limited edition, individually numbered proofs (001 - 300)

Each limited edition, individually numbered proof includes a 'Certificate of Authenticity' displaying the coins number (in order of strike), the date purchased and the value for 1 Ounce .999 Silver in BTC, ETH, DASH, XMR, DOGE and USD at the time of purchase.

Brilliant Un-Circulated (frosted) Rounds will be produced after the first 100 Limited edition, individually numbered proofs find homes. The frosted rounds will distribute @ a more reasonable SPOT Price +premium, with a diminishing differential rate scale depending on the quantity of the order.





The 'Liberty Dollar' plaster master
by World renowned Sculptor Luigi Badia.

About myself: I'm doing this primarily because I've been a fan of alternative settlement instruments, sound money and bullion since I was a child, and felt I've run out of beautiful silver to purchase.

Just a working stiff finding it difficult to survive when bitcoin was birthed. A friend turned me on to Bernard von Nothaus & Joseph V. Perlings' 'Liberty Dollar' and 'Bitcoin Specie' projects; and I thought they just belonged together. I removed most the fiats and tossed in ETHERUM, DASH,

MONERO

, LTC & DOGE as a homage to digital assets. -vola


I hope to raise funds enough, with this initial project,
to cover the to production costs of this and a second piece.